ABOUT THE BAND:


The Atomic Drifters are Denver's premier hard drivin, traditional rockabilly band. They are a four piece band playing your favorite rockabilly tunes of the 50s!

Crankin' out roots-inspired rock & roll, The Atomic Drifters played their very first show at the legendary Skylark Lounge after only one rehearsal (sssssshh!). A great opening night - filled with whiskey shots, a packed dance floor, and multiple encores - made the guys figure "Hey, we'd better stick around!"

Suddenly in demand, the band booked more shows only to find their original name high-jacked by an upstart bluegrass band. So, they popped open the trunk side bar, shrugged it off, and became THE ATOMIC DRIFTERS...

...the rest, as they say, is history!


VENUES:

Click Here for a list of venues we play.


BAND CONTACT INFORMATION:

atomicdrifters@gmail.com, 303-905-6226


BAND GRAPHICS:

The following images are to be used for promotional flyers and venue websites only.



DJ ALSO AVAILABLE:

Rusty is also available for DJing your favorite tunes, incuding 40's, 50's, 60's, 70's, & 80's - Rockabilly, Blues, Doo Wop, R & B, Rock n' Roll, Country, Hillbilly-Bop, Christian, Hair Bands, and Disco! For DJ Booking email us at: booking@atomicdrifters.com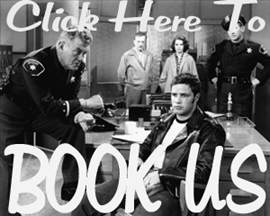 REVIEWS:

"We had a blast and your music was awesome!"
&nbsp&nbsp&nbsp - Reserve Casino (@ReserveCasino)

"You guys rock"
&nbsp&nbsp&nbsp - Queen Connie of Sockhop AM 1190 Radio (@Sockhop1190)

"If a band could be a Time Machine, The Atomic Drifters would be a good candidate for the ride"
&nbsp&nbsp&nbsp - Steel Strings and Lightening, Denver Examiner

"The Atomic Drifters are yet another great example of a Denver Rockabilly band."
&nbsp&nbsp&nbsp - Colorado Music Buzz Magazine (October 2011 Edition)


&nbsp&nbsp&nbsp- Las Vegas Journal Review

TV:


The Atomic Drifter's music was featured in the Fox 31 commercial for the 2011 Cruzin Havana Car Show!

RADIO:



- Mile Hi Radio: The Atomic Drifters were interviewed on the radio show Bands on Demand on Denver's own Mile Hi Radio (July 10, 2011).
- KVCU Boulder: Played on the rockabilly radio show Sock Hop on 1190 AM KVCU Boulder.
- WMNF 88.5 FM Florida: Played on the rockabilly radio show The Bumpy Ride on 88.5 FM WMNF Florida.
- Gashouse Radio: Featured band on the rockabilly radio show Flathead Fever
NEW!